And now chatbots are starting to make legal professionals' lives easier, as tech columnist Bob Ambrogi explains.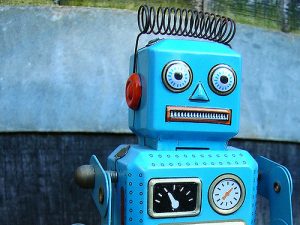 If you have no idea what a chatbot is, you're far from alone. Until last year, there wasn't much chatter about them, and they were almost unheard of in law. But then came Do Not Pay, a chatbot launched by an 18-year-old to help people fight parking tickets, and suddenly all the world's media, it seemed, were writing about robot lawyers.
Suddenly, it seems, new law-related chatbots are springing up regularly. It is premature to say they are taking off in the legal industry, but they are certainly making a splash and drawing attention. Stanford's recent Codex FutureLaw conference, for example, devoted a session to the rise of legal chatbots. Most legal chatbots are designed to help cons
umers, but now some are emerging to make legal professionals' lives easier.
A chatbot is a computer program that interacts with the user by simulating a conversation or dialog. If you've ordered a Domino's or Pizza Hut pizza through Facebook Messenger, then you've interacted with a chatbot. The first chatterbot program dates all the way back to 1964's ELIZA, which evolved out of the Turing test in the 1950s.
Joshua Browder launched his Do Not Pay chatbot in 2015 as "the world's first robot lawyer" to help people fight parking tickets. He reported a high rate of success, winning 160,000 out of 250,000 cases. He later expanded it to provide free legal aid to the homeless and this year he expanded it again to help refugees seeking asylum in the U.S. and Canada.
Following the success of Do Not Pay, other consumer-facing chatbots have emerged to help with legal issues. Another, LawBot, was developed by a group of law students at the University of Cambridge in the UK to help victims of crime by providing a preliminary assessment of their situation and then providing them with information on what actions are available for them to pursue. LawBot's website says that a new version 2.0 is being developed and will launch in June as a messenger bot, most likely on Facebook.
Others include:
Coralie, a virtual assistant that helps survivors of military sexual trauma connect with services and resources. The chatbot recently won the Tech for Justice hackathon during ABA Techshow.
Docubot, a chatbot that works through lawyers' websites to help consumers generate legal documents and that also performs client intake.
LawDroid, a bot that helps users incorporate a business for free on a smartphone.
LawGeex LawBot (not to be confused with the other LawBot above), a chatbot that can be added to Slack, where you can then send it legal contracts for analysis.
Yet another LawBot, this one from Indian company LawRato, helps users get answers to legal questions and recommendations of a lawyer.
Legalibot from Spain, which helps users compose legal documents and contracts through Facebook Messenger.
Lexi from Australian company LawPath can be used to generate a free privacy policy or non-disclosure agreement.
RentersUnion is a chatbot that provides legal advice on housing issues for residents of London. The bot analyzes a user's tenancy agreement and then helps generate letters or recommend appropriate action.
Speak with Scout, from Australia, is a chatbot that works through Facebook Messenger to provide legal guidance and references to a lawyer.
While the chatbots above are designed for consumers and small businesses, companies are also beginning to develop chatbots designed to make lawyers' lives easier. In the UK, business intelligence and analytics company Helm360 has launched Termi, an AI assistant for lawyers. As Joanna Goodman explains in The Law Society Gazette, Termi interrogates the Thomson Reuters Elite legal practice management system to request billing and other management information.
Even law firms are developing their own chatbots. Recently in this column, I noted the launch of a chatbot by the UK conveyancing firm Convey Law, which is said to be the first fully automated chatbot that can engage with conveyancing clients. The Conveybot can provide clients with instant fee quotes and then arrange a follow-up conversation with a member of the firm.
Of course, law firms and legal services providers have already been using expert systems to develop applications that help their clients help themselves in certain areas. Several of these – such as Littler Mendelson's Compliance HR and Norton Rose Fulbright's ContractorCheck – use the Neota Logic platform. But while expert systems typically use Q&A interfaces, they are less conversational than a chatbot and are more advanced in their use of artificial intelligence.
We are just at the beginning of the development of chatbots in the legal field. Watch for chatbots to become more sophisticated in the tasks they perform and the types of users they service. And don't be surprised if someday soon, a chatbot is helping you do your work as a lawyer.
By ROBERT AMBROGI